Collimators with embedded BPMs
Description
16 TCT-tungsten collimators and 2 TCSG-CFC collimators will be replaced by collimators with embebed BPM buttons during LS1.
EN/MME will provide EN/STI with 3 TCSP collimators (2 + 1 spare) inside a welded tank (same deliverable as CERCA during Phase I production); STI to prepare collimators for installation.
The TCTs will be produced by CINEL.
Pictures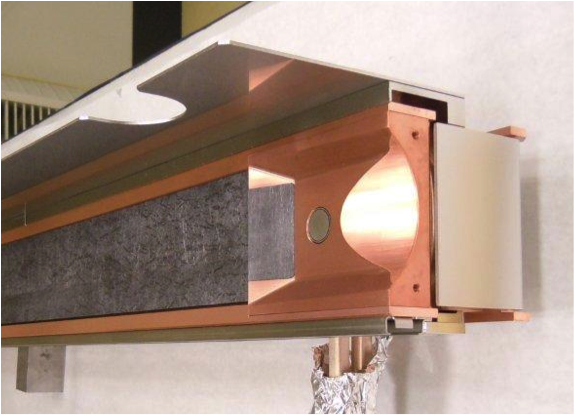 Final TCTP naming and positions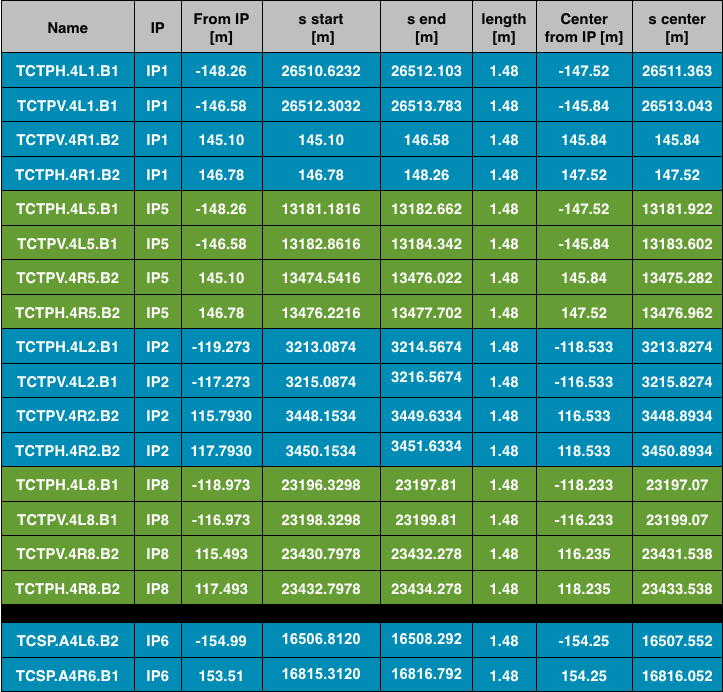 References
Status
The equipment codes for the tables for CECOM and the collimators (TCTP for Cinel and TCSP for CERN) are created.
Assembly Id.
Link
Link
Comments
CERN
HCTCSP0001-CR000001
MTF
EDMS
TCSP-Secondary Collimator with Pick-up
CERN
HCTCSP0001-CR000002
MTF
EDMs
TCSP-Secondary Collimator with Pick-up
CERN
HCTCSP0001-CR000003
MTF
EDMs
TCSP-Secondary Collimator with Pick-up
CINEL
HCTCTP0001-CZ000001
MTF
EDMs
TCTP-Tertiary Collimator with Pick-Up
CINEL
HCTCTP0001-CZ000002
MTF
EDMs
TCTP-Tertiary Collimator with Pick-Up
CINEL
HCTCTP0001-CZ000003
MTF
EDMs
TCTP-Tertiary Collimator with Pick-Up
CINEL
HCTCTP0001-CZ000004
MTF
EDMs
TCTP-Tertiary Collimator with Pick-Up
CINEL
HCTCTP0001-CZ000005
MTF
EDMs
TCTP-Tertiary Collimator with Pick-Up
CINEL
HCTCTP0001-CZ000006
MTF
EDMs
TCTP-Tertiary Collimator with Pick-Up
CINEL
HCTCTP0001-CZ000007
MTF
EDMs
TCTP-Tertiary Collimator with Pick-Up
CINEL
HCTCTP0001-CZ000008
MTF
EDMs
TCTP-Tertiary Collimator with Pick-Up
CINEL
HCTCTP0001-CZ000009
MTF
EDMs
TCTP-Tertiary Collimator with Pick-Up
CINEL
HCTCTP0001-CZ000010
MTF
EDMs
TCTP-Tertiary Collimator with Pick-Up
CINEL
HCTCTP0001-CZ000011
MTF
EDMs
TCTP-Tertiary Collimator with Pick-Up
CINEL
HCTCTP0001-CZ000012
MTF
EDMs
TCTP-Tertiary Collimator with Pick-Up
CINEL
HCTCTP0001-CZ000013
MTF
EDMs
TCTP-Tertiary Collimator with Pick-Up
CINEL
HCTCTP0001-CZ000014
MTF
EDMs
TCTP-Tertiary Collimator with Pick-Up
CINEL
HCTCTP0001-CZ000015
MTF
EDMs
TCTP-Tertiary Collimator with Pick-Up
CINEL
HCTCTP0001-CZ000016
MTF
EDMs
TCTP-Tertiary Collimator with Pick-Up
CINEL
HCTCTP0001-CZ000017
MTF
EDMs
TCTP-Tertiary Collimator with Pick-Up
CINEL
HCTCTP0001-CZ000018
MTF
EDMs
TCTP-Tertiary Collimator with Pick-Up
CINEL
HCTCTP0001-CZ000019
MTF
EDMs
TCTP-Tertiary Collimator with Pick-Up
CINEL
HCTCTP0001-CZ000020
MTF
EDMs
TCTP-Tertiary Collimator with Pick-Up
Cad exchange folders, from CERN to CINEL