TCSPM collimators
Description
Eight new low-impedance secondary collimators with Mo-coated MoGr jaws, called TCSPMs, will be installed in IR7 to reduce significantly the impedance of the betatron collimations system and ensure with sufficient margin the stability of the brighter beams planned for Run 3. These new collimators use the latest design that includes in-jaw beam position monitors.
This activity is fully funded by the HL-LHC project (WP5) and represent the first stage of the impedance upgrade plans that will continue in LS3 with the addition of 10 more TCSPMs.
Depending on the location in IR7 - see below - the new TCSPM collimators will either replace and existing secondary collimator of type TCSG, or be added to the empty slots formerly called "TCSM": the latter are already-cable slots foreseen already for the low-impedance upgrade od the betatron cleaning system.
The TCSPMs are produced through a construction contract in industry: 8 devices for the tunnel and 2 spares.
Pictures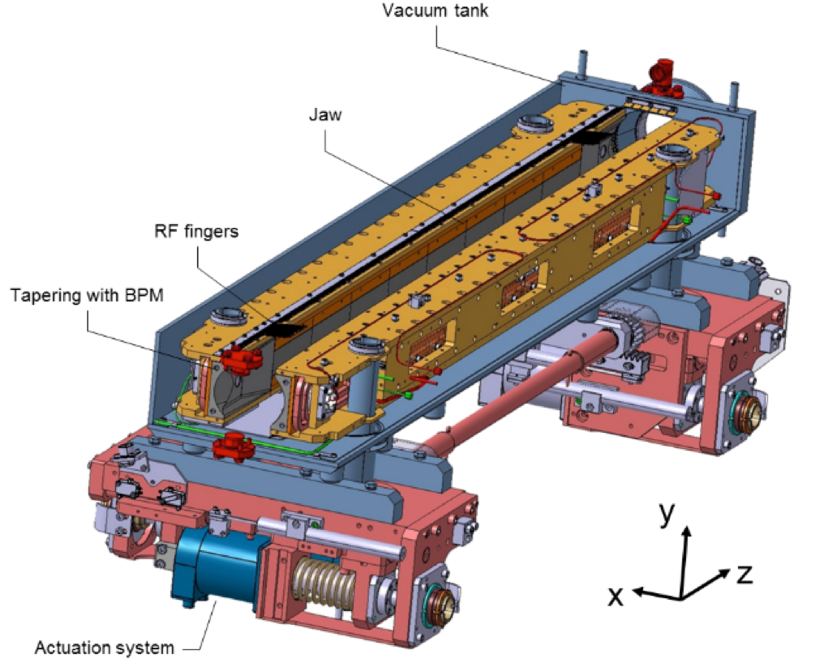 Layout DB functional positions
Name of the new collimator
Coll. Plane
Upstream in-jaw BPM
Downstream in-jaw BPM
Tank BPM
TCSG.D4L7.B1
V
LHC.BPTUV.D4L7.B1
LHC.BPTDV.D4L7.B1
LHC.BPTUH.D4L7.B1
TCSPM.B4L7.B1
H
LHC.BPTUH.B4L7.B1
LHC.BPTDH.B4L7.B1
LHC.BPTUV.B4L7.B1
TCSPM.E5R7.B1
S
LHC.BPTUJ.E5R7.B1
LHC.BPTDJ.E5R7.B1
LHC.BPTUT.E5R7.B1
TCSPM.6R7.B1
H
LHC.BPTUH.6R7.B1
LHC.BPTDH.6R7.B1
LHC.BPTUV.6R7.B1
TCSG.D4L7.B2
V
LHC.BPTUV.D4L7.B2
LHC.BPTDV.D4L7.B2
LHC.BPTUH.D4L7.B2
TCSPM.B4L7.B2
H
LHC.BPTUH.B4L7.B2
LHC.BPTDH.B4L7.B2
LHC.BPTUV.B4L7.B2
TCSPM.E5R7.B2
S
LHC.BPTUJ.E5R7.B2
LHC.BPTDJ.E5R7.B2
LHC.BPTUT.E5R7.B2
TCSPM.6R7.B2
H
LHC.BPTUH.6R7.B2
LHC.BPTDH.6R7.B2
LHC.BPTUV.6R7.B2
References
Status
Assembly Id.
Link
Link
Comments
???
???
MTF
EDMS
???