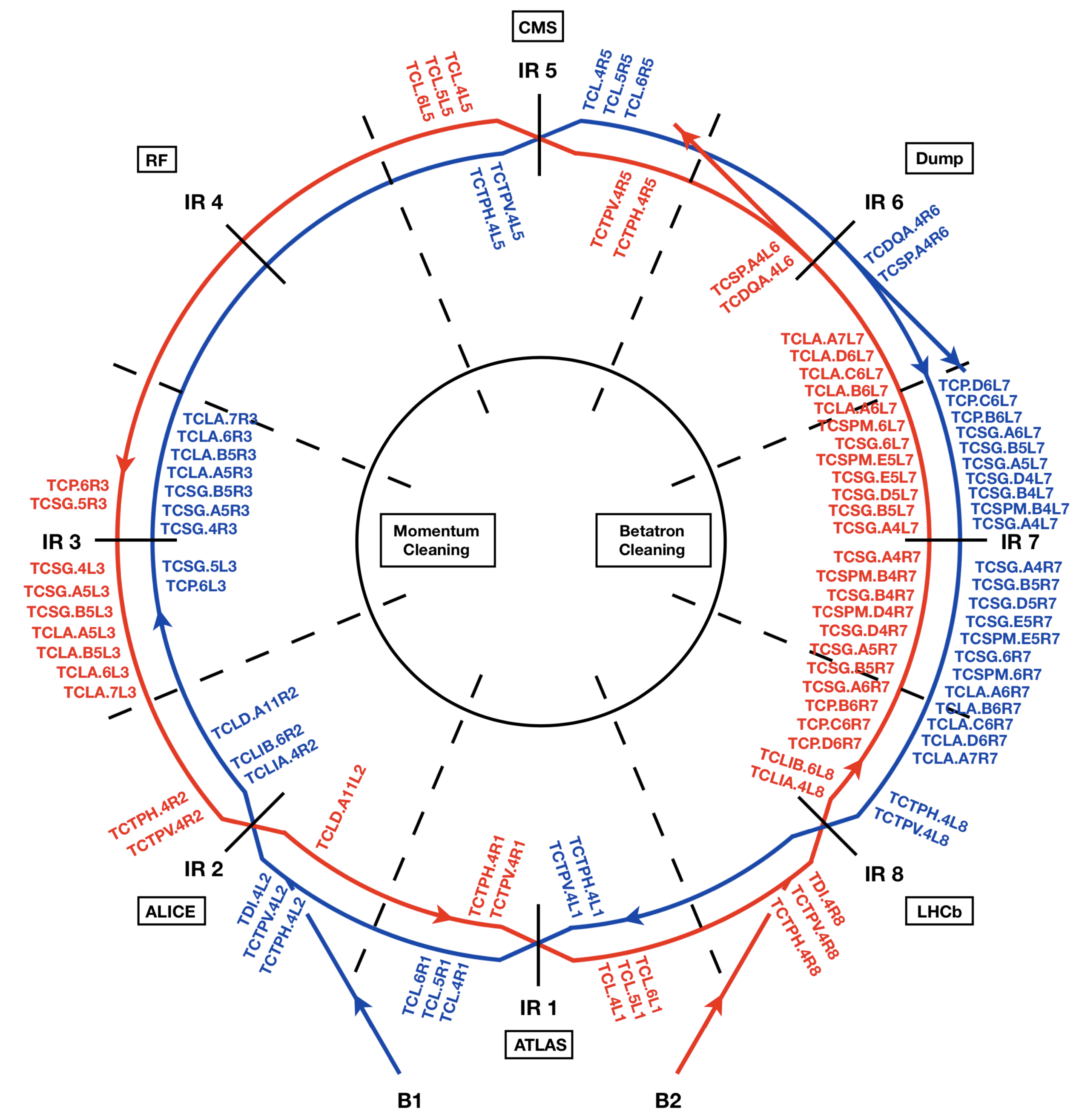 Reference: G. Azzopardi, et. al., "LHC Collimation Controls System for Run III Operation", in ICALEPCS'21, Shanghai, China, paper THPV012, 2021.
Overview of LS2 activites
During LS2, several important changes of the LHC Collimation system are planned as part of the system's consolidation and of the HL-LHC upgrade. The main collimator activities are targeted to:
reduce the impedance of the collimation system through the installation of collimators based on new materials.
improve the collimation cleaning achieved by adding new collimators in the cold dispersion suppressor regions.
improve the passive protection of the warm magnets in IR7 against radiation exposure.
improve the operational efficiency of the system by adding more collimators wit integrated BPMs.
improve the layouts of wire-embedded tertiary collimators to study long-range beam-beam compensation.
The planned activities to address the previous upgrades are:
Installation of 8 low-impedance secondary collimators in IR7, called TCSPMs, with Mo-coated MoGr jaws;
Installation of 4 low-imedance primary collimators in IR7, called TCPPMs, with un-coated MoGr jaws.
Installation of 4 dispersion suppressor collimators, called TCLD, around IR2 and IR7. The IR7 TCLD are installed between two new 11 T dipoles.
Installation of two new passive absorbers in IR7, called TCAPM.
Displacement of the wire-embedded collimators installed during Run 2, called TCTW, to have the wires in position more efficient for LRBB compensation.
Other important activities involve:
Inspection of the various collimators that were used in Run 2, in particulat the IR7's TCSPM prototype operational in 2017-18.
R&D on crystal collimation: potential layouts improvements and changes of crystals.
Usual periodic checks and maintenance of the system.
In this web page, the key information on the various activities is collected. Each upgrade item has a dedicated web page that can be accessed throught the links on top of this page. This web site also collects important information with the operational data for new collimators and links to acceptance sheets and relevant documentation.
Related talks and documents:
April 2020 updates:
2019: Staged implementation of low–impedance collimation in IR7: plans for LS2 (indico link).
S. Redaelli@International Review of the HL-LHC Collimation System, 11 Feb 2019, Collimation update plans
R. Bruce@HL-LHC annual meeting, 3 Sep, 2019, Status of HL Collimation and update layout
I. Lamas García@HL-LHC annual meeting, 3 Sep, 2019, LS2 Collimators Production Status
R. Bruce at the HL-LHC Annual collaboration meeting, 14-16 October 2019, FNAL, Chicago, link to the slides of the plenary presentation.
CERN bulleting article on the installation of the cryogenics by-pass cryostats in the dispersion suppressors of IR2 (link).
EMDS No. 1996981, Collimator naming.